Two years ago, the San Diego City Council unanimously approved my Urban Agricultural Incentive Zone Proposal, a program that will help expand community access to fresh produce through a property tax incentive for qualifying land owners to allow urban gardens on their property.
Finally, after years of delay at the County level, a new website for the program was published last week. Applications and an interactive map highlighting eligible lots are available for the public to view.
The program will provide communities throughout the City with an economic tool to incentivize the development of community gardens on eyesore properties. This measure will reduce the property tax due on a participating parcel owner in exchange for a minimum five-year contract for the usage of the site for urban agriculture.
The parcels must meet the standards established in State Code and the City of San Diego ordinance. The parcel must be vacant or unimproved. A vacant parcel can have some form of improvements such as a slab but cannot contain structures. Unimproved means the parcel is empty with no form of improvements on it. Parcels must be between 0.1 and 3 acres (4,356 and 130,680 square feet).
This new program will help further our mission of developing and maintaining an equitable, healthy, and sustainable food system in San Diego.
Please visit the website at www.sandiego.gov/economic-development/business/starting/urban-agriculture or contact Economic Development at 619-236-6700 or email at sdbusiness@sandiego.gov
To read the full May newsletter, please click here.
In Service,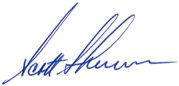 Scott Sherman
Councilman, District Seven


To unsubscribe, click the link below:
Unsubscribe to Email News Letter